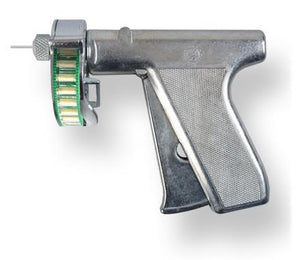 Ralgro® Implant Gun (w/ 6 Needles)
---
---
Ralgro®
 

implants are designed for use with the Ralogun™ applicator.

 


(NOTE: The Ralogun™ applicator, which is designed for the Ralgro® line of implants, is NOT compatible with Revalor® implants.)

Before implanting
Make sure the implanting site is clean and dry. If necessary, use a wire brush or scraper to remove mud, dirt and manure. Disinfect and scrape or dry before implanting.
How to use the Ralogun™ applicator
Each chamber of the applicator contains a full dose of Ralgro®.
 
Insert the cartridge in the magazine of the Ralogun™ with the hole of the axle of the cartridge pointed toward the handle of the applicator.
After snapping in place, rotate the cartridge clockwise to assure proper seating.
Check the window at the top to ensure that the pellet chamber is aligned with the applicator plunger.
Take the ear of the animal firmly with the free hand and insert the needle into the subcutaneous tissue at the implanting site. Squeeze the trigger to deliver a full dose of Ralgro®.

Keep the trigger depressed while withdrawing the needle, to be sure that the implant stays in place.
Rotate the cartridge in the direction of the arrow on the gun until you see the new dose visible and centered in the window.
Disinfect the needle with cotton or gauze moistened with disinfectant before the next implant.
---
We Also Recommend