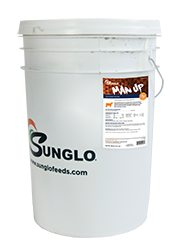 Sunglo® Man Up™
---
---
Designed to give you the edge in muscle shape and dimension.
Can be used in both a drench or top dress to assist with the fat steer look.
Unparalleled in the market for a rapid development of muscle hydration and mass with a smooth look.
Mixing And Feeding Directions:
Each pound of Sunglo Man Up contains 430 mg of Ractopamine HCL.
Mix 8 ounces of Sunglo Man Up with 150 mL of water 2x/day or 16 ounces with 300 mL of water 1x/day. This will supply 430 mg/hd/day of Ractopamine HCL.
Guaranteed Analysis
Protein: 14.50%
Fat: 7.00%
Fiber: 2.00%
Medication: Ractopamine
---
We Also Recommend